Information and Communications Technology for Environmental Regulation:
Developing a Research Agenda
Workshop 20-21 June 2013
In June 2013, a scoping workshop in Ireland brought together experts from across the world to discuss the development of a coherent research agenda for ICT and environment regulation and agree detailed proposals for future work in the area. While this workshop was the first of its kind, it attracted significant attention, with speakers from disciplines such as law, the physical sciences, and social sciences such as economics, information systems and web science, and a range of speakers that included academics, non-governmental agencies and staff from regulators. There is a short report on the workshop in the online journal SCRIPT-ed and a summary mind map

here.
The workshop was funded by the Irish Research Council, the Environmental Protection Agency, NUI Galway's Ryan Institute for Environmental, Marine and Energy Research, the Whitaker Institute for Innovation and Societal Change, the NUI Galway School of Law, the

Environment, Development and Sustainability cluster of the Whitaker Institute, and the Digital Enterprise Research Institute.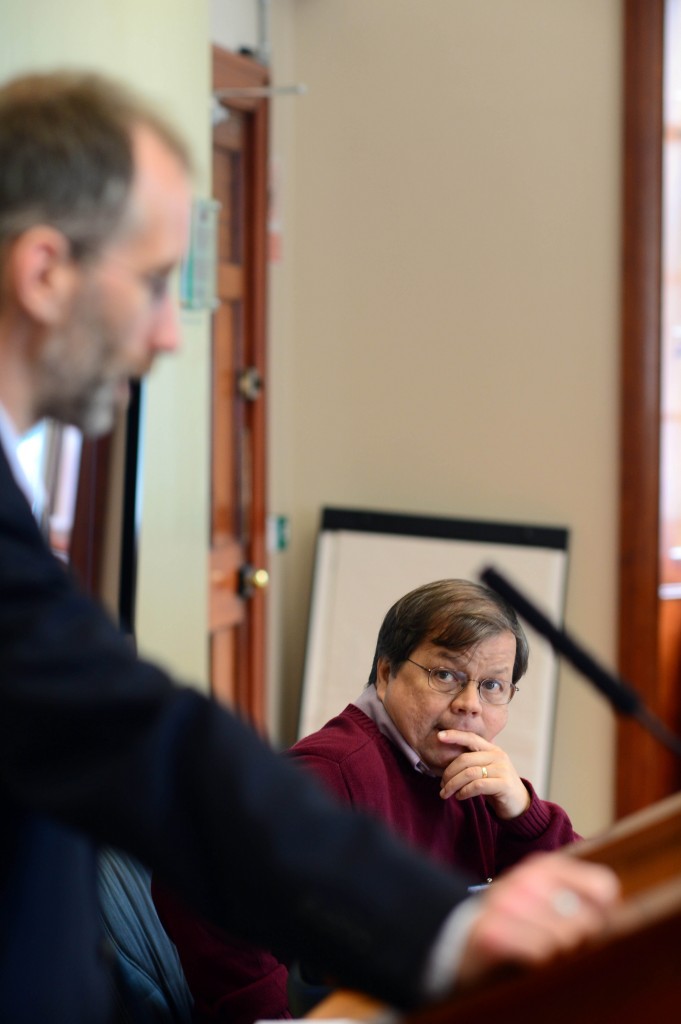 Rónán Kennedy and Professor Bradley Karkkainen
Thursday 20th June
Professor Ciaran O'Neill
, Dean of College of Business, Public Policy and Law
Rónán Kennedy, School of Law

Professor Bradley Karkkainen, Henry J. Fletcher Professor in Law, University of Minnesota School of Law
Chair:

Professor Colin Brown
,
Ryan Institute
, NUI Galway
Institutional Architecture and Information Flow (Professor Holly Doremus, University of California, Berkeley School of Law)
ICT and Sustainability: An Overview of Current Contributions and Future Research from the Information Systems Community (Professor Brian Donnellan, National University of Ireland Maynooth;

Dr. Gabriel Costello, Galway-Mayo Institute of Technology)

ICT and Environmental Regulation: Critical Perspectives (Rónán Kennedy, National University of Ireland Galway)
Chair: Professor Brian Donnellan, National University of Ireland Maynooth

Environmental Information to Support Regulation and Governance (Professor Fiona Regan, Tim Sullivan, Edel O'Connor, Ciprian Briciu, Dian Zhang, Lisa Jones, Noel O'Connor, Alan Smeaton, Brendan Heery, Marine and Environmental Sensing Technology Hub, Dublin City University)

Constitutional Rights to Information: A Worldwide Survey (Professor James R May, Widener University School of Law)

Access to Environmental Information after the INSPIRE Directive: What has Changed? (Dr. Katleen Janssen, Katholieke Universiteit Leuven)

NGO-led Initiatives to Improve Public Participation and Access to Information in Environmental Matters (Andrew Jackson, An Taisce)
Chair: Professor Holly Doremus, University of California, Berkeley School of Law

Improving Policy Coherence and Accessibility through Semantic Web Technologies: Environmental Policies as Linked Open Data (Adegboyega Ojo, Digital Enterprise Research Institute; Lewis John McGibbney, Stanford University; and Dr Edward Curry, Digital Enterprise Research Institute)

Standarising Smart: Information Communication Technologies and the Environmental Promise of the Smart Grid (Professor Elizabeth Wilson, University of Minnesota; Professor Tarla Rai Peterson, Texas A&M University; and Professor Jennie Stephens, Clark University)

Identification of Dumping Behaviour at Bring Centres in Ireland and their Multi-Disciplinary Solutions (Aidan McDermott and John Dooley, National University of Ireland Maynooth)
The Public-Private Divide in Informational Regulation (Professor Sarah E Light, Wharton School of Business)
Chair:

Professor James Cunningham
,
Whitaker Institute
, National University of Ireland Galway

"21st Century Regulatory Innovation": Can ICT Support Regulatory Reform? (Colin Armstrong, Northern Ireland Environment Agency)

Historic Landfills: An Innovative ICT Solution (Breen Higgins, Environmental Protection Agency)

Integrated EPA Licensing, Enforcement and Monitoring Application

(second part) (Valerie Doyle and Owen Pullen, Environmental Protection Agency)

Environmental Monitoring Data Sharing Using Web-based Operator Data Portals: Current Environment Agency Initiatives (David Purchase, Environment Agency for England)
 Friday 21st June
Parallel Panel 4.A: Putting Information to Work (Part 1 and Part 2)
Chair: Dr. Edward Curry, DERI, National University of Ireland Galway

Open Sustainability and Environmental Regulation (Jack Townsend, University of Southampton)

Climate Change and Public Engagement: Conceptualising and Developing the Role(s) for ICT (Brenda McNally, Dublin City University)

A Review of the MARGIS Modelling System and Its Use by the English Environment Agency in the Assessment of the Potential Impact of Discharge Consent in the Coastal Zone (

Dr. Conor Delaney, MarCon Computations International Ltd)

Environmental Regulation with Corporate Governance: The Role of ICT (Fearghal McHugh, Whitaker Institute and Lero)

Openly Accessible GIS Data and Local Government Planning Policy (Dr. Ronan Hennessy, Ryan Institute, National University of Ireland Galway)

Integrating Spatial Planning and Flood Risk Management: a Conceptual Framework of a Spatially Integrated Policy Infrastructure (Jing Ran and Professor Zorica Nedović-Budić, University College Dublin)

Graphic Warning as a Regulatory Tool and Free Speech Interests in the U.S. (Professor Ellen Goodman, Rutgers University School of Law)
 Parallel Panel 4.B: Gathering Information (Part 1, Part 2, Part 3 and Part 4)
Chair: Professor Fiona Regan, Dublin City University

Development of an Online Systems Modelling Tool for Climate Adaptation (Anthony Patterson, Coastal and Marine Research Centre, University College Cork)

Satellite Remote Sensing for Environmental Monitoring and Regulation (Dr. Fiona Cawkwell and Ned Dwyer, University College Cork)

The Cause-and-Effect Problem in Regulated Environmental Monitoring (Dr. Rohan Sadler, Astron Environmental Services)

How the Law Supports Existing Models of Environmental Data Reuse (Laura German, University of Southampton)

Examining the Potential of Crowdsourced Volunteered Geographic Information for Environmental Observation and Regulation (Dr. Peter Mooney, National University of Ireland Maynooth and Dr. Andrea Ballatore, University College Dublin)

Overcoming Barriers to Obtaining and Evaluating Energy Consumption Data (Professor Elizabeth Wilson and Professor Alexandra Klass, University of Minnesota)

An Argument for a GIS Contaminated Land Inventory for the Republic Of Ireland (Padraic Mulroy, Principal, Mulroy Environmental)

The Role of Non-Governmental Organisations (Dawit Dagnew Kebede, GIZ Energy Coordination Office and Addis Ababa University School of Commerce)
Chair: Professor Ronán Long, National University of Ireland Galway

Cross-Fertilisation Between Fundamental Freedoms and a Clean Environment: The Legal Hook of Data Protection Legislation (Raphaël Gellert, Vrije Universitiet Brussel)

ICT and Perspectives of Privacy (Dr. Asher Vaturi, Max Stern Yezreel Valley College)

Environmental Protection and Data Protection Law: Clouding the Debate? (Professor Burkhard Schafer, SCRIPT Centre for IT and IP Law, University of Edinburgh)
Chair: Professor Dermot Diamond, Dublin City University

Regulation Enhancement with the Use of Information and Communications Technology for the Environmental Management and Monitoring of Waste Water Treatment Plants (Dr. Josephine Treacy, Ken Oakley, Niamh Devane, Annemarie Casey, Marie Henaghan, Kevin McDonnell, Limerick Institute of Technology)

Using Standard ICT and GIS to Facilitate Better Nutrient Management Planning on Irish Farms (Sarah Mechan, Stan Lalor, Oliver Shine & David Wall, Teagasc)

Changing Consumer Behaviour Through Information Provision (Joe Durkan, Sustainable Energy Authority of Ireland)
Chair: Professor Burkhard Schafer, University of Edinburgh

Distributed Sensor Networks: the Key to Democratising Environmental Regulation Enforcement (Professor Dermot Diamond, CLARITY Centre, Dublin City University)

Advancing the Right to Water and the 'Right to Know' through Telemetry Innovation in South Africa (Nathan J Cooper, University of Lincoln; and Dr. Andrew Swan, Leeds Metropolitan University)

Groundwater Monitoring: Reconciling Cost Effectiveness, Legal Requirements and Enforcement Realities (Andrew Allan and Professor Chris Spray, University of Dundee)

EU Regulation of Fishing Vessel Monitoring Systems: Lex specialis ab initio (Professor Ronán Long, National University of Ireland Galway School of Law)
Chair: Dr. Martina Prendergast, Ryan Institute

Report 1,

Dr. Kieran Hickey, School of Geography and Archaeology, National University of Ireland Galway

Report 2,

Dr. Su-ming Khoo, School of Political Science & Sociology, National University of Ireland Galway
Close: Mr. Rónán Kennedy, National University of Ireland Galway